Quote:
Originally Posted by
1971ls6
Go out and buy some Acurel F, do not overdose, it will turn the water cloudy for an hour and then it turns crystal clear, amazing product without killing the bio, this will tell you if it a bacterial bloom or substrate fine particles. Try a diatom filter if you have one.
Just an update on my cloudy water. I picked some of the Acurel F product up on Sunday afternoon, water was still cloudy from previous water change. I added 4 tbs of this product to the tank and it clouded up even worse to start
after 30 min this is what the tank looked like.. Click on the pic..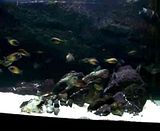 It was still clear this morning, I plan on doing a 30% change tonight so will see how it comes out. I will say if you have a cloudy tank this stuff will defiantly clear it up.
It's not something I want to continue to use, I would like to figure out the problem, but I was amazed at what it did.. Thanks for the idea 1971ls6 Still not sure if it's mechanical or biological my guess is it's mechanical? If it were biological Would it still have cleared?